Sneak Peek
From the
Introduction:
Welcome to
Movies and Music
~ The New Edition!

Since its inception in 2008 as a language based reminiscence activity for the aging cognitively impaired population
Movies and Music,
has become a great resource for anyone wishing to open the lines of communication in a group or individual conversation.

To the recreation therapist and activity director it is an avenue by which a sedentary traditional movie watching activity can become an interactive event!

To the speech–language pathologist it is an open door to fostering increased communication, use of language, pragmatic skills, conversation and long term memory.

To educators it can become a catalyst for discussion with students about relationships between men and women and the essence of building valuable and strong friendships.

To families it can be the key that unlocks Grandma's memory and encourages her to share.

Think of
Movies and Music
as your way in:

As a clinician whether you be in LTC, schools or a family looking to continue the conversation with an older family member consider this:

"All the films contained in the guide, are not only great pieces of film history to which everyone should be exposed but great pieces of our history which weave into the fabric of our lives and fill us with great memories to share. If you are looking for common ground with your students, looking for a way in with your older clientele or just looking for a way to talk to Grandma, look no further than
Movies and Music!
"

From the
Instructions:
As you browse through the book you will notice each film contains a Cast List, an Overview, Trivia, Discussion Topics for Educators , and Discussion Topics for Families.

These pages are specifically designed to give the leader some basic information about the film as well as provide thought provoking questions for all audience members.
The Trivia
can be provided at anytime.

The remaining pages contain the scenes to be shown. The questions and some answers are
highlighted in various colors.
Not all questions have answers. This allows for an open discussion of ideas.

From the
Guide: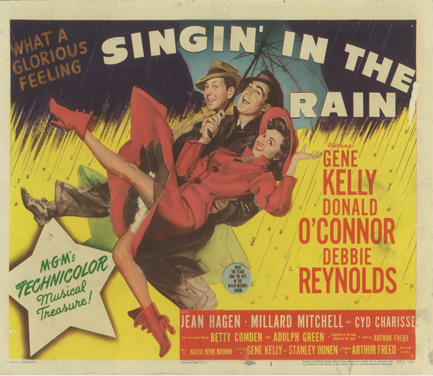 Singin in the Rain:
Scene: The Royal Rascal/Fit as a Fiddle
Stop the scene briefly as Don and Lina approach the microphone. (DVD Counter: 3:47).
In the crowd a young girl holds Screen Digest. What is that? (A movie or fan magazine) Did you read movie magazines? What popular magazines do you read?

When Dora says, "…those romantic lovers of the silver screen Lockwood and Lamont." They are referred to as a pair. Can you think of any other famous screen pairs? (Astaire/Rogers: Fred and Ginger), (Gable/Lombard), (Tom Hanks/Meg Ryan) (Rowan/ Martin), (Tracy/ Hepburn)
Leader: Continue immediately

From the
Extras:
Movies and Music
is a language-based activity that works to enhance communication, cognitive-linguistic skill and engagement. Thus, allowing your clients to improve their ability to participate in meaningful interaction and better control the surrounding environment.

Goal Writing:

Communication: Through the use of Multi Media:

Pt will increase self–expression at the automatic level to 80% to satisfy needs and participate in meaningful interaction

Cognitive–Linguistic: Through the use of multi-media:

Pt will answer inferential reasoning questions related to topic to 80% in order to maximize participation in meaningful interactions and promote transition to community interaction.